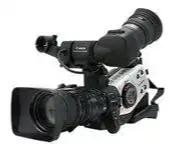 Velvet Hammer Productions has two Professional Panasonic Video Cameras, and one Canon XL2 professional video camera. In addition, we have two digital mini cams, both by Nikon. The Panasonic and Canon cameras both use mini-DV tapes, which gives a richer, fuller sound to natural audio than digital cards. Editing is performed with Adobe Premier Pro software on an Asus hdmi computer, and Voice Overs are recorded with a Presonus audiobox 22 VSL and a Shure SM57 Dynamic Microphone. Call us about voice overs for your commercial productions wherever they are produced!
"It's a great video Beth!" - John Howard
Commercial video for GoTonight.com
Commercial produced for Savannah Preserves.
Original Song, with Chroma Key, many clips
Nitty Gritty Dirt Band Founding Member
Jimmie Fadden & Suitcase Full Of Blues
Original song broadcast on NPR, BBC Radio
Access all of our videos and subscribe here